CHICKEN SATAY SNACK POT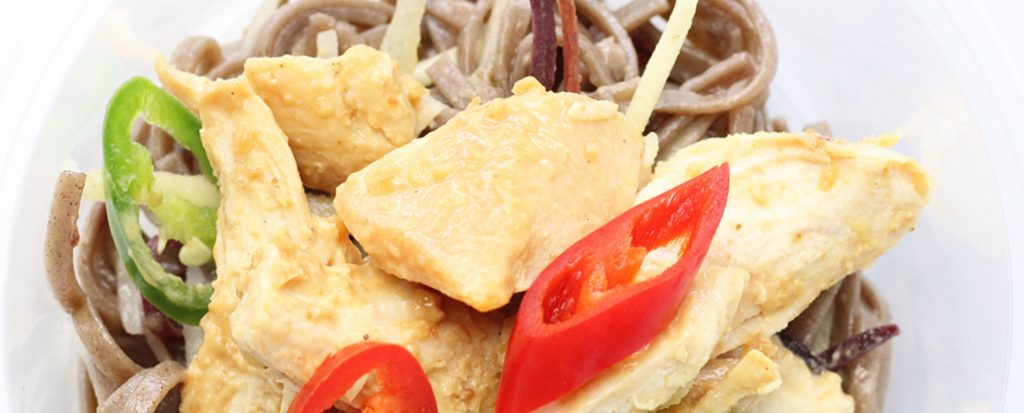 Satay chicken pot
Pro 15g Carb 18g Fat 8g = 202 calories
Ingredients
80g Chicken thigh
5g onion
2g ginger
2g garlic
2g chilli
1 tbsp tamari
½ tbsp lime juice
2 tbsp peanut butter
2 tbsp coconut milk
Method: Dice onions garlic and ginger and fry off in a pan. Cook until soft and translucent
Place in a blender and blend until fine. Then slowly add peanut butter, and coconut milk. Season with tamari and lime juice. Pour half of marinade over chicken, leave to marinate for 3+ hours. Place chicken on the chargrill and seal on all sides, once coloured place chicken on a tray. Place the tray in the oven and cook at 200c for 15 minutes or until the chicken thigh is completely cooked through. When cold dice the chicken thigh up and coat in sauce.
Why we love them: Chicken is the leanest source of protein, as well as being packed full of essential vitamins and minerals. Chicken is one of the greatest providers of selenium which has important anti-inflammatory properties; whilst it's vitamin B6 content has extremely positive effects on metabolism. Paired with a healthy dose of mono-unsaturated fatty acids from the addition of peanut butter to the recipe, our Chicken Satay pot will also help to lower bad cholesterol and protect against coronary heart disease.