Greek Style Cod With Tahini Dressed Greens And Tzatziki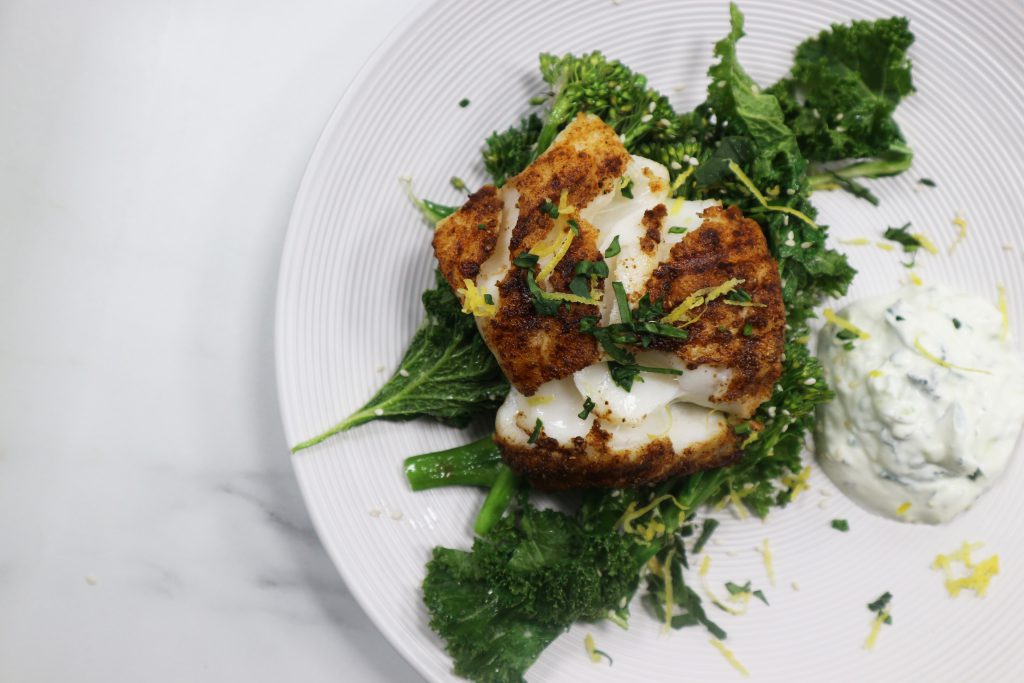 Serves 2
Ingredients
Cod
+ 2 Cod fillets
+ 1 Lemon (juiced and zested)
+ 1 Clove of Garlic
+ 1 Small bunch of parsley finely diced
+ 1tsp Coriander seeds
+ 2tsp Sweet paprika
+ 1tsp Cumin seeds
Greens
+ 100g Kale
+ 100g Cavolo nero
+ 250g Baby spinach
+ 200g Savoy cabbage
+ 1 Handful of peas
+ ½ Head broccoli (florets cut off stalk)
+ 2tbsp Tahini
Tzatziki
+ 60g Yoghurt
+ 1tbsp Mint (thinly sliced)
+ 1tbsp Dill (chopped)
+ 30g Cucumber (grated)
+ 1 lemon (zested and juiced)
Method
Cod
1. Dry fry coriander, paprika and cumin.
2. Blend the spices down and mix with salt .
3. Season the cod with the spice mix.
4. Place the cod onto a baking tray and then bake in the oven at 200c for 10 minutes.
5. When the cod comes out of the oven finish with chopped parsley and lemon juice.
Greens
1. Remove kale from stalks.
2. Dice cavolo and savoy.
3. Steam all greens separately.
4. Refresh the mix with peas, oil and the tahini.
Tzatziki
1. Place the yoghurt into a bowl, add the mint, dill, cucumber and lemon juice and zest.
2. Mix all together.
Serve and enjoy!