KALE MY VIBE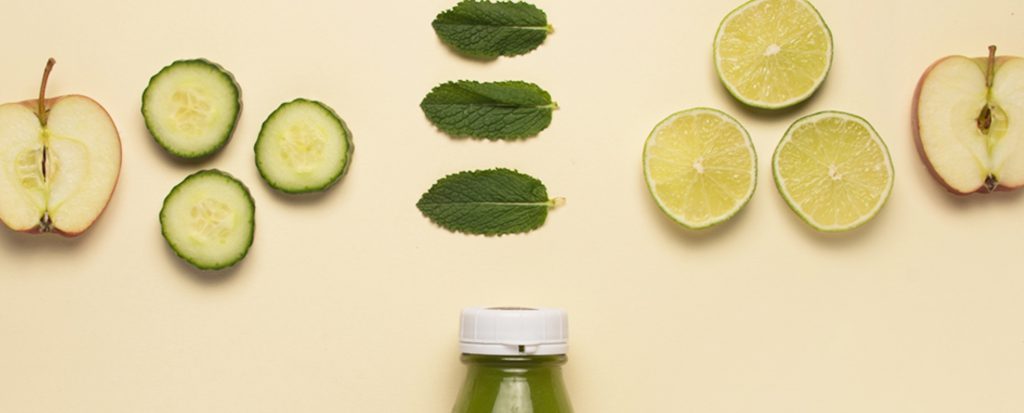 The Green 'Juicy' Details
Green juices are definitely not new to the health scene and have been a staple on café menus and on the shelves of many food stores for some time. Finding the perfect (and palatable) blend of veg is not always easy, however at FFF we think we've struck gold with the newest addition to our cold-pressed menu – Kale My Vibe!
Aside from its delicious flavour, it packs a punch in terms of micronutrients, is low in sugar and low in calories! Too good to be true? We think not! Check out the plethora of benefits below:
KALE
As a general rule, the more intense the colour of the fresh produce, the greater the concentration of micronutrients. Dark green leafy kale is an excellent source of vitamin K, vitamin A, vitamin C, and Manganese and is jam-packed with immune-boosting antioxidants. These vitamins help protect cells from free-radical damange, are a vital part of collagen production in the body play an important role in maintaining bone health, calcium absorption and blood sugar regulation.
CUCUMBER
Comprised of 95% water, cucumbers provide a great base for juices without an extreme calorie hit. While they don't get as much air-time as other vegetables in terms of benefits, cucumbers contain a unique combination of nutrients including three types of phytonutrients – cucurbitacins, lignans and flavonoids. These phytonutrients provide valuable antioxidant and anti-inflammatory benefits.
ROMAINE LETTUCE
Much like kale, romaine is rich in vitamin K and vitamin A and is a good source of folate, an umbrella term for those super beneficial B vitamins. And don't let its lighter colour fool you! This variety of lettuce is also high in Vitamin C, making it a heart-healthy vegetable and a must-add to your daily juice!
SPINACH
Spinach comes under the same 'dark green leafy vegetable' category as kale and romaine so it does have a similar micronutrient portfolio. However, it also provides rich sources of iron, vitamin E, and vitamin C. Alongside the benefits listed previously, vitamin C aids the absorption of non-haem iron (vegetable based iron) into the body so it can be utilised more readily. Diets rich in iron have been linked to increased oxygen capacity of the blood, which in turn can help to improve cardiovascular performance and reduce fatigue.
LIME
There is much more to lime than meets the eye! Flavonol Glycoside, a flavonoid present in this slightly sour fruit has recently been linked to reducing cell division in cancer cell lines. It can also act as an anti-bacterial, but that's not the reason we love a little lime in our juices – that extra crisp, fresh flavour gives our juice just the right amount of tangy!
MINT
This herb has been used for thousands of years as a method for soothing the digestive system as it is thought that the menthol present in the plant aids digestion. It also has the added benefit of keeping your breath minty fresh and adds a nice refreshing kick to any green juice!
Georgia Bellas, FFF Nutritionist