Multivitamin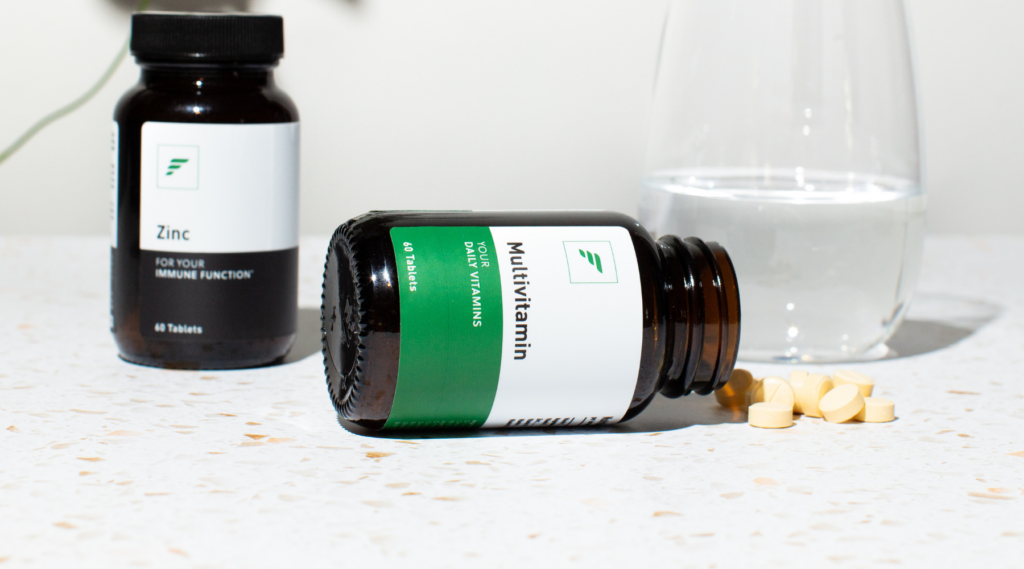 For who do we recommend a supplement?
Our busy lifestyles can place extra stress (mentally and physically) on our bodies. Due to certain lifestyle choices or medical conditions, we might have nutritional gaps and a multivitamin may help to keep our daily nutrition requirements optimal so we can feel at our best throughout the day.
FFF Formulation and dosage.
Biotin – 50 ug Vitamin B2 – 1.4 mgFolic Acid – 200 ug Vitamin D3 – 5 ugVitamin A – 800 ug Zinc – 10 mgVitamin B1 – 1.1 mg Magnesium – 50 mgVitamin B12 – 2.5 ugVitamin B3 – 17 mgVitamin B5 – 6 mgVitamin E – 12 mgVitamin B6 – 1.4 mgVitamin C – 80 mg
Why choose supplements from Fresh Fitness Food?
With our clients in mind our team of nutritionists have designed a multivitamin that provides a formulation of 14 different vitamins and minerals to benefit your health. We've taken out any ineffective ingredients or unneeded additives, and put in what you need.
When it comes to our health, the food we put in our bodies can have a significant impact in many ways. It affects our mood, energy levels, stress, physical activity and everything in between. The right nutrition can help us to feel better, every day. At Fresh Fitness Food we belief in a food-first approach as food provides you with so much more than just nutrients. Many of us should be able to get most nutrients from a healthy and balanced diet, however there are some caveats and exceptions where food supplements can assist to fill up the gaps.
If you are unsure or have any questions about food supplements, you can book in for a call with one of our all-knowing nutritionists here (link: https://meetings.hubspot.com/fffcall/supplements-consultation).
---
Fresh Fitness Food provides personalised meal plans delivered straight to your door, ensuring not only that you have the nutrients you need to manage your stress levels, but also that you have the time usually spent shopping, cooking and washing up, to engage in your favourite stress-reducing activity. To discuss which nutrition plan is right for you, book a call with our in-house nutrition team here.
Order today and start smashing your goals with personalised nutrition!
Get £50 off a 5-day trial with code: BLOG50. Start your trial here