Training for Hyrox – Tips from Our Community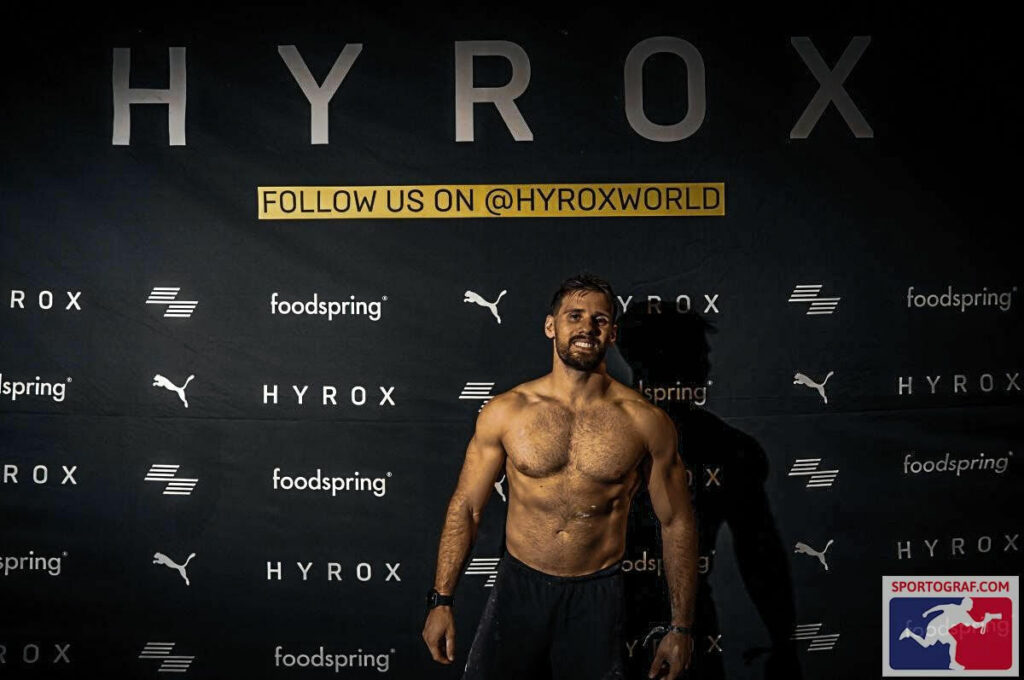 Hyrox is back in London on 25th and 26th of November, so we're on hand to provide you with some insider information on how to tackle this mega event.
For those of you who may not know, HYROX combines both running & functional workout stations, where participants run 1km, followed by 1 functional workout station, repeated 8 times.
Accommodating both professional athletes and everyday fitness enthusiasts looking to take their training to the next level – HYROX is a sport for everybody. There are 4 categories to choose from, and staggered start times eliminate the fear of 'coming last'. An impressive 98% of those who enter complete the event!
The race format remains the same around the world, facilitating global leaderboards & a cumulative World Championships at the end of each race season.
---
I sat down with Cyrus, an FFF affiliate to discuss his first-hand experience with Hyrox. He went into the highs, lows and his learnings from this event and the prep he did for it.
Tell us a bit about yourself:
I'm Cyrus and I'm the Head Coach at F45 Cannon Street.
I'm fairly new to the Hyrox scene. I caught the bug after completing my first doubles event at London Olympia 2022.
Since then, I have completed 5 other Hyrox events both doubles and singles. My current goal is to achieve a Podium in the Men's Pro Category (Singles).
How do you structure your training to prepare for Hyrox?
Currently, I am roughly 3 weeks out from Hyrox Dublin on 28th October. I do 6 sessions per week, with an even mix of heavy lifting, recovery runs (zone 2) and higher intensity faster-paced runs.
My ultimate training goal is to emulate an environment or stimulus that is similar to the day of the event. This won't necessarily always be to the same intensity or endurance threshold of the event, but at least an aspect of it that I can build to feel more comfortable with.
Here is an example recent workout:
4 x 20 Barbell Squat – I find squats have really helped me improve my wall balls when it comes to event day.
1km row for time
Aerobic – Zone 3 Comfortable 30+ min run
What does your nutrition look like whilst you're prepping for Hyrox?
As a coach, my days are long and I'm always on my feet. As a result of this, combined with factors such as my weight, height, age and gender, my daily maintenance calories sit at around 3,300 calories,
40% of my calories are made up of protein to make sure I am maximising recovery. It is important to note that this is something I have found works for me personally, but does not mean it will be the best approach for everyone. Speak to an FFF Nutritionist here for more guidance.
I'm pleased to say I use FFF for 3 of my daily meals (I receive 2100 daily calories from FFF). They make my life so much easier and are a massive hack when it comes to fuelling your everyday!
I'm definitely the type to get the most out of my training post some fuel, so I literally never train on an empty stomach. The workouts are always demanding so I want to be ready for whatever I have to tackle!
How do you stay motivated?
I simply see it as me vs me. If I can do better than I did at the previous event then I'm on my way to becoming a better competitor. Simple as that.
Personally, I find it really beneficial to find a set time in the day to train and stick to it, making it a non-negotiable daily task. I find 3pm a great time to train as the gym is really quiet. I also have access to all the kit I need and loads of space. I know I am in a fortunate position with this, due to my job and current schedule.
Do you have any advice for first-timers?
Enjoy it! Don't be overly strict on yourself when setting targets. Simply go in with an attitude to enjoy your event as much as possible! I don't know anyone who hasn't enjoyed their first Hyrox experience. The buzz and energy of the events are unmatched. Following your first event you can set targets, goals and a game plan for your next one.
I have found it incredibly useful to surround myself with other people on their Hyrox journeys and train with them, run with them and simply learn from them.
What are the bits of kit you can't train without?
Running trainers – comfort is king.
Chest heart rate monitor – control heart rate, staying in your zones during training.
Shorts that have zipped pockets to carry energy gels in for longer sessions.
Decent socks (avoid rubbing at all costs)!
Any event day tips?
Some of this is based on errors I have made in the past:
Do not go all guns blazing out the blocks on the first lap! Naturally, you will want to, but control your urge to sprint off, hold back, stay comfortable and keep control of your heart rate.
Under no circumstance try running the event in Metcons (yes…I did this on my first event) and it was incredibly uncomfortable! Find a pair of runners that work well for you and feel comfortable across all the stations.
Ensure you are really well rested going into the event, you don't want to have overcooked your training in the lead-up to race day, so make sure you've tapered off the intensity!
Familiarise yourself with the event map – be familiar with the station set-up – leave nothing to chance!
Finally, don't worry about a top you won't need it. It's hot haha!
---
If you're looking to free up some time from your busy training schedule, book a call with one of our all-knowing nutritionists to discuss this further. Have all the information you need but just don't want to cook? Give one of our plans a go with £60 off your first 5 days with code BLOG60 – Start your trial here.
Latest posts by Theo Kilham
(see all)