An Interview with Will Goodge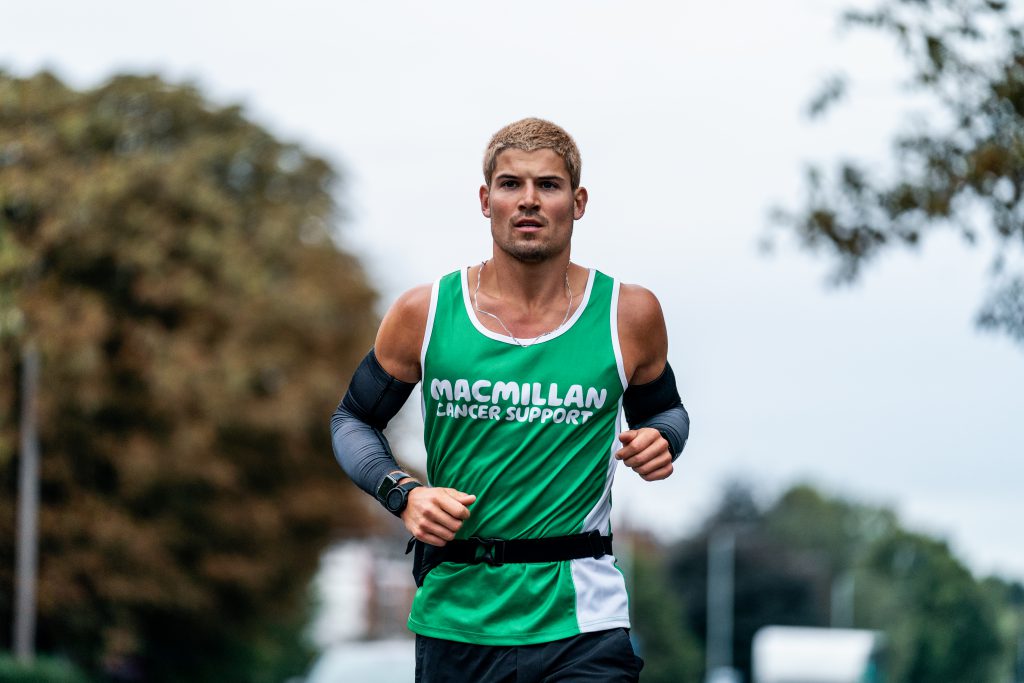 You may have seen across social media and the news that our friend Will Goodge recently completed a whopping 48 marathons in 30 days, across the 48 counties of the UK, all in order to raise money for MacMillan Cancer Support. We had the pleasure of speaking to Will about this incredible accomplishment, the reasoning behind the challenge, the highs and the lows, and of course how he fuelled himself throughout.
How does it feel to have completed 48/30?
Somewhat surreal, it was such a long effort it's hard to consider the challenge as a whole. But I am happy it's complete and am very proud of the money raised for an amazing charity in Macmillan.
Why did you choose marathons/running over any other type of challenge?
Running became my therapy and coping mechanism for when my mum passed away 3 and a half years ago. It buys into my own self-discovery that emotion = energy and making it all mean something.
How did you prepare and train for 48/30?
There was no training plan, but I have done some big run challenges before. Believe it or not I am normal and busy like most people. I struggle with motivation sometimes and work took precedent. However when it comes to something I say I'm going to do and for charity, my mindset is unwavering.
What was the hardest part?
The hardest part was day 12, Cornwall and Devon. Emotionally Cornwall was draining even though it was one of my favourites. I recaptured a memory I had in my thoughts but didn't have any visual cues for early on from a family holiday. This manifested itself when in the Devon Marathon I ran walked 10 miles and then couldn't break into a run thereafter. This meant my longest marathon and latest finish, also spending quite a lot of time delirious.
What did you learn from the experience as a whole?
It reinstated a belief that human beings are resilient when they have the right reason to be. We too often put a ceiling on what we can do or strive for.
How did you fuel yourself through the challenge?
Most of my meals were FFF of course. On the road it's not easy for the team or especially me to get good nutritious and specific food requirements to give me the best fuel to recover, perform and actually enjoy! When you're so physically at your limits, you need rewards and food is always a big one for me.
I was eating a lot, but generally I kept my pre-run meal light. Some granola and yoghurt and a coffee usually did the trick. Then I split the marathon into going out solo for 90-120 minutes usually covering 10-13 miles and working up an appetite. I would then have something more substantial, like scrambled eggs with spinach and some fruit on the side. I was also a huge advocate of a croissant or pain au chocolate, baked goods in general. Trying to eat and walk around the van or grab and go, to maximise time and adding distance. Another 10ish miles on my own and I would get to the support vehicle wanting something carby like a tuna sandwich and something salty to replenish what I'd lost in sweat. I'd have something sweet to go, sometimes actual sweets otherwise a protein bar or raw fruit. Then it was a case of finishing off the run and having another big meal before a nap. Something high in kcals and across the board carbs, protein and fats.
When I woke up from my nap it was time for something sugary again and some miles. Then it would basically repeat, other than two FFF meals once I had finished and then bed. Safe to say I consumed some calories
Favourite post-run refuel meal?
I put the FFF chilli, with sweetcorn, black beans and rice all into a wrap with my favourite hot sauce! I would have another main meal on the side and finish with a bowl of cereal. Sucker for Crunchy Nut or Krave. Then night night.
What was the highlight of 48/30?
Probably the home marathon. I got to do it with my closest friends and it was one of their birthdays. Robbie Balenger, who travelled from America to help. He's a fellow ultra runner and helped me on my first running challenge too. A truly special human. What was also incredible and emotional was meeting the Macmillan nurses who cared for my mum. I'd never met them before but they told me how wonderful she was and that I looked like her. I won't forget that moment.
Once you're recovered, what is next on the agenda?
I'm looking more at individual races for a while! I have Marathon Des Sables next spring which is a 250km stage race in the Sahara Desert. Other than that I really want to do the big 6 marathon races. During 48/30 I did my second and third official marathon races (Brighton and London). Having run the distance well over 100 times on events I've made up myself, it would be nice to do more with the buzz of other people. I think that might be one of the lessons or changes to come of the challenge. I don't need to always be out there on my own in the middle of nowhere to enjoy it! 
---
Fresh Fitness Food provides personalised meal plans delivered straight to your door, ensuring not only that you have the nutrients you need to manage your stress levels, but also that you have the time usually spent shopping, cooking and washing up, to engage in your favourite stress-reducing activity. To discuss which nutrition plan is right for you, book a call with our in-house nutrition team here.
Order today and start smashing your goals with personalised nutrition!
Get £50 off a 5-day trial with code: BLOG50. Start your trial here