Paprika Chicken Salad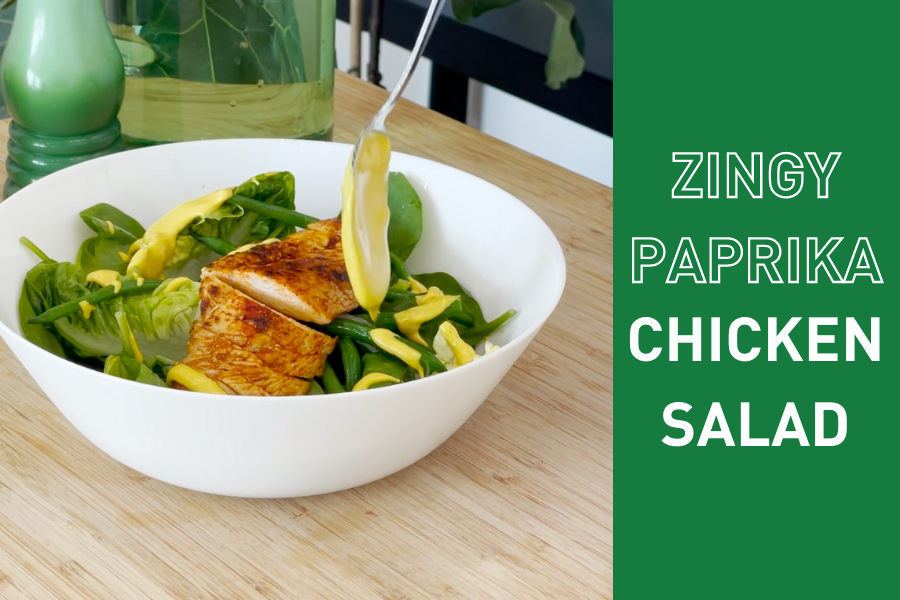 Salad doesn't have to be boring! Paprika adds a sweet and spicy kick to lean grilled chicken breast and when accompanied by crispy leaves and greens and a creamy, lemon tahini dressing this is a great salad for any season.
Makes 1 portion.
Ingredients
1 small chicken breast
A handful of baby gem lettuce, washed
A handful of baby spinach leaves, washed
1 tsp smoked paprika
½ tsp turmeric powder
1 tbsp tahini
1 tbsp water
1 tsp olive oil
Juice of half a lemon
100g green beans
Salt and pepper to taste
Directions
Heat a non-stick frying pan over a medium heat, add the olive oil and chicken to the pan and cook until the underside is golden brown
Turn the chicken, sprinkle with paprika, turn the heat down and continue until the chicken has cooked through
Meanwhile trim the stalks from the green beans, bring to the boil a large pan of water, and cook the beans for 4-5 minutes on a rapid boil, then drain
To make the dressing mix the tahini with the turmeric then little by little stir in the lemon juice and the water, and salt to taste
Dress the salad leaves in a little olive oil, mix together the lettuce leaves and green beans, top with chicken and drizzle the dressing over the top
---
Fresh Fitness Food provides personalised meal plans delivered straight to your door, ensuring not only that you have the nutrients you need to manage your stress levels, but also that you have the time usually spent shopping, cooking and washing up, to engage in your favourite stress-reducing activity. To discuss which nutrition plan is right for you, book a call with our in-house nutrition team here.
Order today and start smashing your goals with personalised nutrition!
Get £50 off a 5-day trial with code: BLOG50. Start your trial here