Broccoli and Feta Cheese Salad with Puy Lentils and a Mustard Vinaigrette.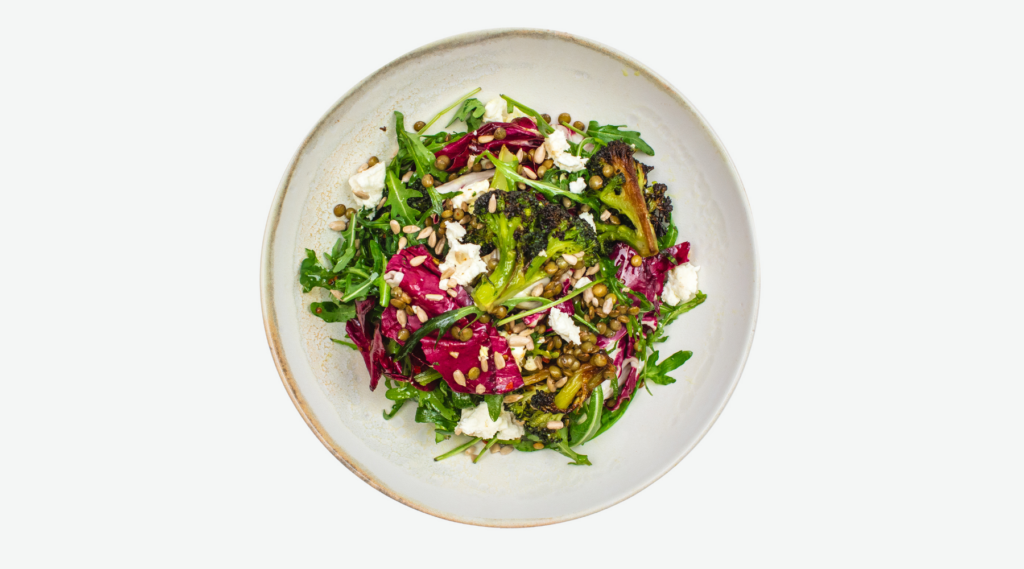 Who said salads have to be boring? Each bite of this vibrant dish provides a new flavour from a range of different wholefood ingredients.
Ingredients (Serves 2)
600g broccoli
1 tbsp olive oil
½ tsp dried thyme
½ tsp garlic powder
1 red chilli (finely sliced)
40g rocket
20g radicchio
½ red onion (finely sliced)
50g wild rice (raw)
50g puy lentils (raw)
1 tsp lemon juice
10g sundried tomatoes
40g feta cheese
1 tbsp pumpkin seeds
1 tbsp lemon juice
1 tsp dijon mustard
40g olive oil
Dash of turmeric
Salt and pepper to taste.
Method
Preheat the oven to 190c.
Wash and chop the broccoli into florets. (I would recommend chopping the stem too as this is equally as delicious!)
Wash and finely slice the chilli.
Add the broccoli to a baking tray and coat with the olive oil, garlic powder and dried thyme and chilli. Roast at 190c until golden and just tender, approximately 15-20 minutes.
Cook the wild rice and the puy lentils separately. Place the puy lentils into one pan and the wild rice in another. Cover both with water and bring to the boil. Turn down the heat and simmer. Cook the puy lentils for 25-30 minutes, and the wild rice for 40-45 minutes, or until tender. Drain both the lentils and the rice and set to one side.
Wash the radicchio and rocket and chop the radicchio into small pieces.
Peel the red onion and slice finely.
Place the pumpkin seeds onto a separate oven proof tray and roast in the oven for about 10 minutes, checking these every five minutes until toasted.
Blend together the lemon juice, mustard, olive oil, turmeric, salt and pepper.
Mix together the broccoli, wild rice, puy lentils and salad. Crumble the feta cheese into the mixture and dress with the vinaigrette. Keep mixing until the dressing is fully mixed through the salad.
Latest posts by Sophie Dillon
(see all)