An Interview With Andy Manteit, Turf Games Founder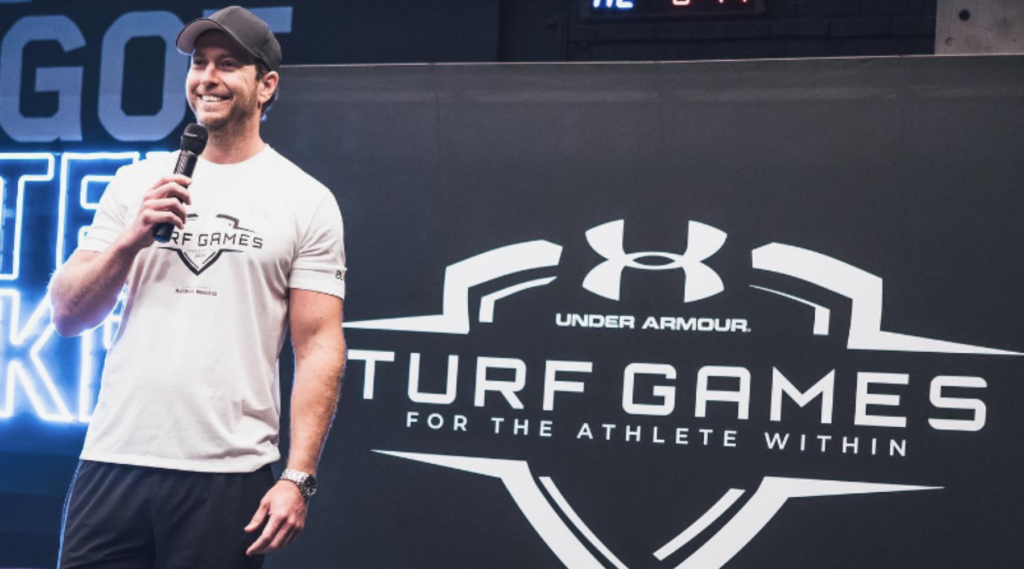 Turf Games is a staple part of the fitness community's calendar. We caught up with founder Andy Manteit about how the competition came to be, what it means to be a founder and what workout
Andy originates from Brisbane and moved to London in 2012, working as Private Wealth Manager prior to setting up Turf Games in 2018. From surviving the pandemic to becoming on of the biggest UK fitness competitions of the year, Andy knows a thing or two about success and perseverance.
What brought you from Aus to the UK?
I arrived in London in 2006 on a 2 year working visa. I worked in banking and spent the rest of my time travelling around Europe with a group of friends. I'd had enough of the UK weather by 2008 and headed back to Australia for 4 years. A business opportunity brought me back in 2012 and I've lived here since then… and am more tolerant of the weather now!
What got you into the world of fitness?
I've played sport, mainly cricket, rugby league and rugby all my life and love the team aspect. Fitness has always been something I've done for my physical and mental health and it's always been something social for me. Meeting friends for a workout or a game of touch.
How did Turf Games come about?
Turf Games developed from me organising social workouts with guys I'd met in the London fitness scene. We'd get together and workout at different gyms. I wanted to build a fitness comp that everybody could do – no super high skilled movements – just teamwork and hard work!
Sometimes we'd do competitive workouts with pairs or teams against each other and everyone loved them. They grew in popularity with people asking to join in and from there we developed the first Turf Games competition.
In early 2018 myself and a bunch of guys from the London Fitness scene headed to NYC to take on a few teams from there in our first International Turf Games. In April 2018 we hosted our first male and female event and had 100 people competing. In 2019 the next Turf Games competition had grown to 950 athletes. Although events during 2020 were cancelled due to the pandemic, Turf Games came back in the Summer of 2021 with 1,500 competitors; and 2022 topped that with 2,600 competitors.
What has been the most significant challenge so far?
Running a large scale events company during the covid pandemic was the most challenging experience I've ever had. It would have been easy to give up but luckily our sponsors and community stood by us and we were able to deliver a range of online competitions and workouts to keep people engaged and motivated. I think that being able to move swiftly online during that time is what kept us on track and allowed us to continue moving forwards and step straight back into our events as soon as we were allowed to do so.
If you could go back and do one thing differently, what would it be?
In the last year I've taken on a Co-founder and I think had I known how helpful that would have been for both myself and the business then I would have done it sooner. Obviously it's all about timing and when you meet the right person but for me it's been a game changer. Having someone else to share the load of the business decisions and responsibilities has been significant and has allowed us to move forwards faster and stronger. Co-founders are difficult to find though, you need to have someone that complements your skill set and feels as passionate about the business as you do which is extremely hard to find.
What does a typical day look like for you?
I get up at about 6.30am. At the moment I have calls most mornings at 7am with our Australian sponsors and events team in order to catch them at the end of their day. During school term time I drop the kids at school a couple of mornings a week and then I'll head straight to the gym. Unless I have meetings I normally work the rest of the day from home or a cafe if I feel like I need to get out! I'll always stop work around 5pm for a couple of hours when my kids get home from school and we'll play some cricket or football. Then it's back to work in the evenings and i'll often work late… later than I should do probably.
Any advice for those looking to start their own company?
Go for it. It's super rewarding, but also know that it will consume you 24/7 for a period of time.
What's next for Turf Games?
We have a very busy second half of the year. We are busy planning the final stages of our Gold Coast Summer Festival which takes place on the 1st and 2nd of October in Australia. That is closely followed by the Dubai Turf Games so there will be lots of travel coming up towards the end of the year which is exciting. In the UK, we have three remaining Pairs Combine events which are part of our UK Fittest in the City tour. These take place in Durham, Cobham and Southampton. We then have the final of this event on December 3rd to round off what has been an epic Turf Games year.
Beyond that into 2023, our focus is growing the events in the current destinations and ensuring they are the biggest and best they can be. And then looking at new cities and event formats that will enable us to broaden our reach and audience further.
If you could write your ideal Turf Workout, what would it be?
I like a workout with variety of movements and equipment. Something like an AMRAP for 15mins of:
10 TTB
10 Barbell clean
20 DB Snatch
10 sandbag over shoulder
250m row
What's one thing people don't know about you?
I love grass or should I say turf! I have become a little obsessed with watering ours throughout this hot summer to ensure it stays green!
If you had to eat one meal for the rest of your life, what would it be?
A burger and chips!
---
Discover Turf Games for yourself at one of their next events, UK or internationally here.