Salmon Fishcakes with Lemon Aioli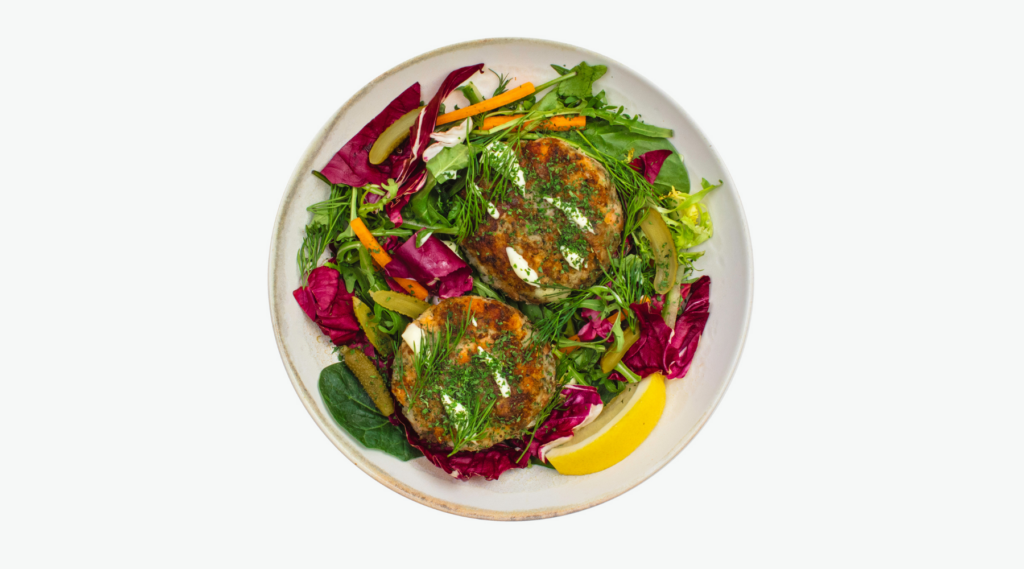 A light, fresh and seasonal dish that combines a range of intersting flavours wilst providing a balanced nutritional profile. The citrus burst from the aioli adds an exciting finish that will have you coming back for more!
Ingredients (serves 2)
200g salmon
1 tbsp capers (drained and chopped)
200g white potato
1 tsp dill (finely chopped)
1 tsp parsley (finely chopped)
1 small shallot (finely diced)
1 tsp lemon zest
½ tsp smoked Paprika
¼ tsp nutmeg (grated)
1 tbsp lemon juice
50g bread crumbs (can substitute with gluten-free alternative)
10g buckwheat flour
Lemon Wedge
1 Cornichon
40g frisse
40g radicchio
Handful of rocket
50g cucumber
50g carrot
½ tsp Dried parsley
1 small garlic clove (crushed and finely chopped)
1 large egg yolk
1 tsp dijon mustard
285 ml extra virgin olive oil
Lemon juice to taste
Method
Preheat the oven to 120c.
Dice the potatoes into large cubes. Place the potatoes into a pan and cover with cold water. Bring the water to the boil and cook until the potatoes become tender. 
Once the potatoes are soft, drain the water and crush the potatoes with a fork or using a potato masher. 
Place the salmon onto a baking tray, lined with baking paper. Bake the salmon for 12-15 minutes until cooked through, and the salmon flakes easily with a fork. 
Mix together the shallots, nutmeg, capers, parsley, dill, smoked paprika, lemon juice and lemon zest with the mashed potato, buckwheat flour and bread crumbs. 
Mix the salmon with the potato mixture. You should only need to turn the mixture 4-5 times to ensure the salmon stays in chunks throughout.
Form the mixture into patties, approximately 100g each. These are your fishcakes!
Add a little olive oil to a pan and fry the fishcake patties for 3-4 minutes on each side until golden brown. 
Wash, peel and ribbon the carrot and cucumber, and mix with the dried parsley.
Wash and roughly chop radicchio, rocket and frisee. Discard any very yellow or hard parts of the frisee.
Roughly chop any remaining dill and/or parsley. Wash the lemon and cut a wedge, and finely slice the cornichons. These will be used as a garnish for your fishcakes. 
For the Aioli, whisk together the mustard and the yolks in a bowl. Start to slowly add the extra virgin olive oil to the yolks, continuing to whisk as you do so. 
Once you have added about a quarter of the olive oil, you can start to add the remaining oil a little faster. Once the mixture has thickened, add the lemon juice. 
When all the olive oil has been added, add the garlic, and season with salt and pepper. 
Serve the fishcakes over the salad and finish with the Aioli dressing and garnish with cornichons and a lemon wedge. 
Latest posts by Sophie Dillon
(see all)