Strawberry Protein Pancakes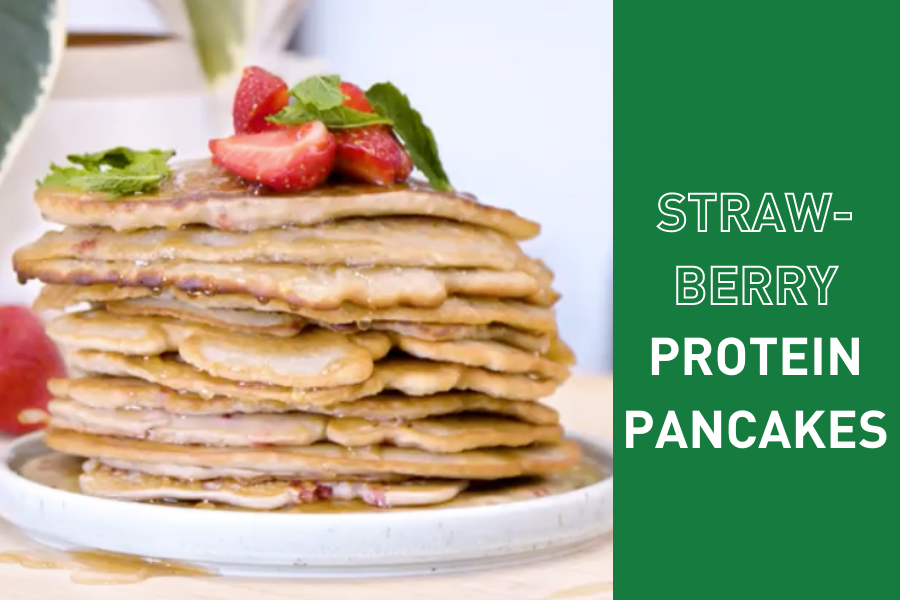 This stack of delicious, fluffy pancakes will hit those sweet breakfast cravings without giving you the undesired sugar crash. They also include a serving of protein to help hit your macronutrient goals and keep you fueled and full until lunch. The addition of strawberries to the batter keeps them sweet and fresh and an added bonus is they are both gluten-free and vegan too.
Try with other berries or additions to add even more variety to your breakfasts, extra toppings are also always welcome!
Makes 2 portions.
Ingredients
170g buckwheat flour
Pinch of baking powder
20g vanilla protein powder
300g oat milk
5g olive oil
Pinch of salt
15g maple syrup
150g strawberries, washed and finely chopped
Directions
Mix together the dry ingredients
Whisk the wet ingredients and strawberries together into the dry ingredients until the batter is smooth
Heat a small (10-12cm) non stick pan over a medium heat
Place a ladleful of the batter mix in the pan, let it cook until the underside is golden and the edges have set, then flip it and continue until it is cooked through
Serve with extra maple syrup, fresh strawberries and mint
---
Fresh Fitness Food provides personalised meal plans delivered straight to your door, ensuring not only that you have the nutrients you need to manage your stress levels, but also that you have the time usually spent shopping, cooking and washing up, to engage in your favourite stress-reducing activity. To discuss which nutrition plan is right for you, book a call with our in-house nutrition team here.
Order today and start smashing your goals with personalised nutrition!
Get £50 off a 5-day trial with code: BLOG50. Start your trial here