Crispy Lemony Tofu Salad Bowl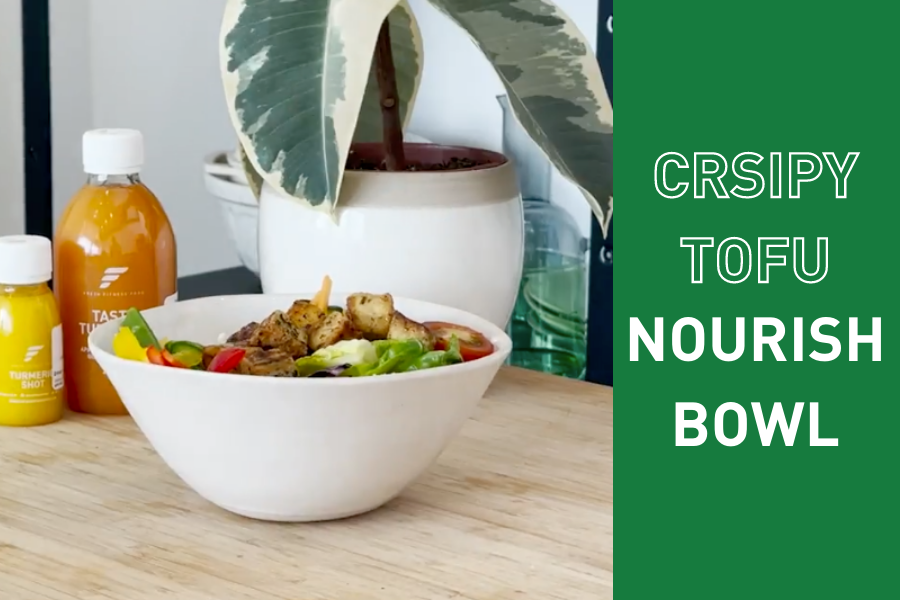 A rainbow in a bowl! Packed with plenty of colour and flavour this bowl of goodness includes a great variety of vegetables and tofu offers a great plant-based source of protein for veggies and non-veggies alike.
Makes 1 portion.
Ingredients
150g tofu diced
40g shredded red cabbage
40g shredded white cabbage
20g cherry tomatoes halved
15g of sweetcorn kernels, cut from the cob
30g finely sliced peppers
40g cooked quinoa
A handful of salad leaves
10g small florets cauliflower
2 asparagus spears, finely sliced
8g pumpkin seeds
pinch of dried parsley
20g carrots, peeled and sliced into fine batons
1 tsp olive oil, or oil spray
Salt and pepper to taste
Juice of half a lemon
1 tsp buckwheat flour
Directions
In a large frying pan warm the olive oil over a medium heat
Mix the tofu with the buckwheat flour, and lift it into the frying pan, shaking off any excess flour
Move the tofu around the pan with a wooden spoon until it is evenly coloured, then add the dried parsley, half of the lemon juice a pinch of salt and remove from the heat
Thoroughly wash and drain all the fresh vegetables
Place all the ingredients in a bowl with the tofu on top, then squeeze over the rest of the lemon juice, olive oil, salt and pepper to taste
---
Fresh Fitness Food provides personalised meal plans delivered straight to your door, ensuring not only that you have the nutrients you need to manage your stress levels, but also that you have the time usually spent shopping, cooking and washing up, to engage in your favourite stress-reducing activity. To discuss which nutrition plan is right for you, book a call with our in-house nutrition team here.
Order today and start smashing your goals with personalised nutrition!
Get £50 off a 5-day trial with code: BLOG50. Start your trial here