White Fish & Summer Ratatouille Recipe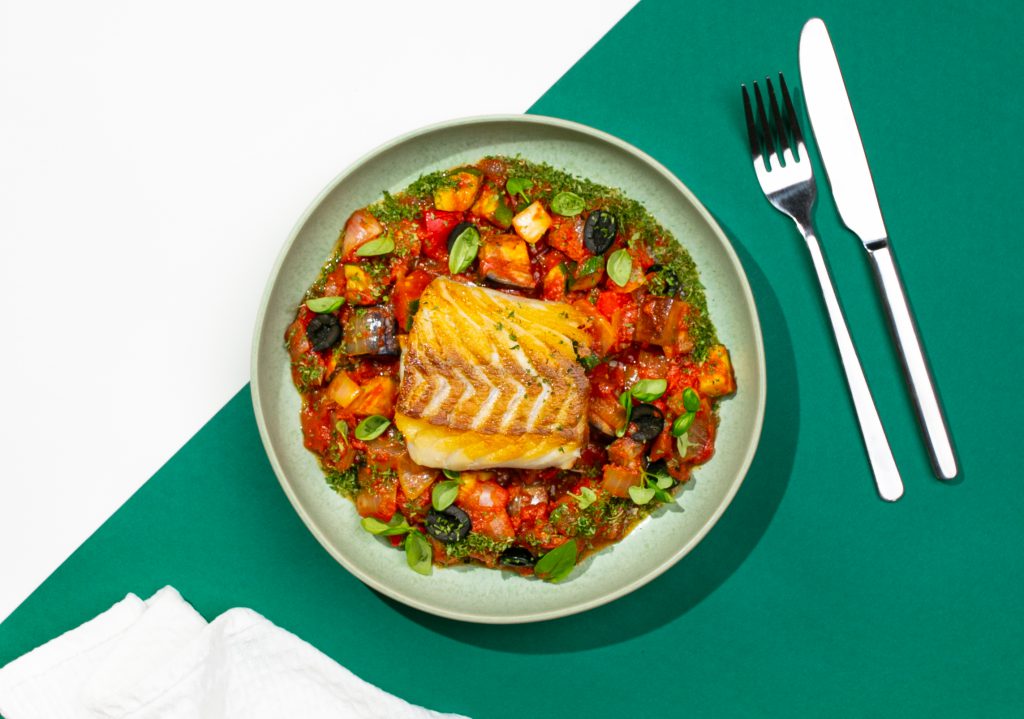 The sun has finally come out and we're certain it's here to stay. This high protein recipe is bursting with light, summer flavours perfect for enjoying in the sun with your friends and family. Simple to cook and delicious to eat, this is definitely one to try.
Makes 2 portions.
Ingredients
2 portions white fish, filleted
1 small white onion, diced
Half an aubergine, diced
1 courgette, diced
1 400g tin chopped tomatoes
1 red pepper, diced
50g sliced black olives
1 tsp dried oregano
Salt and pepper
Basil leaves to garnish
Olive oil or oil spray
Directions
Add a little oil or oil spray to a saucepan over a medium heat
Add the onions, stirring until they begin to soften
Stir in the courgettes, peppers and aubergines and oregano and continue to cook for a couple of minutes
Tip in the chopped tomatoes, fill up the empty can with water and pour it in too
Simmer the ratatouille over a medium heat for around 40 minutes, stirring occasionally until the vegetables are completely soft and season them to taste
When the ratatouille is ten minutes away from being ready place a non-stick frying pan over a medium heat and add a little oil or oil spray
Season the fish with salt and pepper, then add it to the frying pan. Cook until 4-5 minutes on each side until golden on the outside and cooked through (thick cuts may need longer)
Top the ratatouille with the fish and garnish with basil leaves and olives
---
Fresh Fitness Food provides personalised meal plans delivered straight to your door, ensuring not only that you have the nutrients you need to manage your stress levels, but also that you have the time usually spent shopping, cooking and washing up, to engage in your favourite stress-reducing activity. To discuss which nutrition plan is right for you, book a call with our in-house nutrition team here.
Order today and start smashing your goals with personalised nutrition!
Get £50 off a 5-day trial with code: BLOG50. Start your trial here