Pesto & Butternut Squash Grain Bowl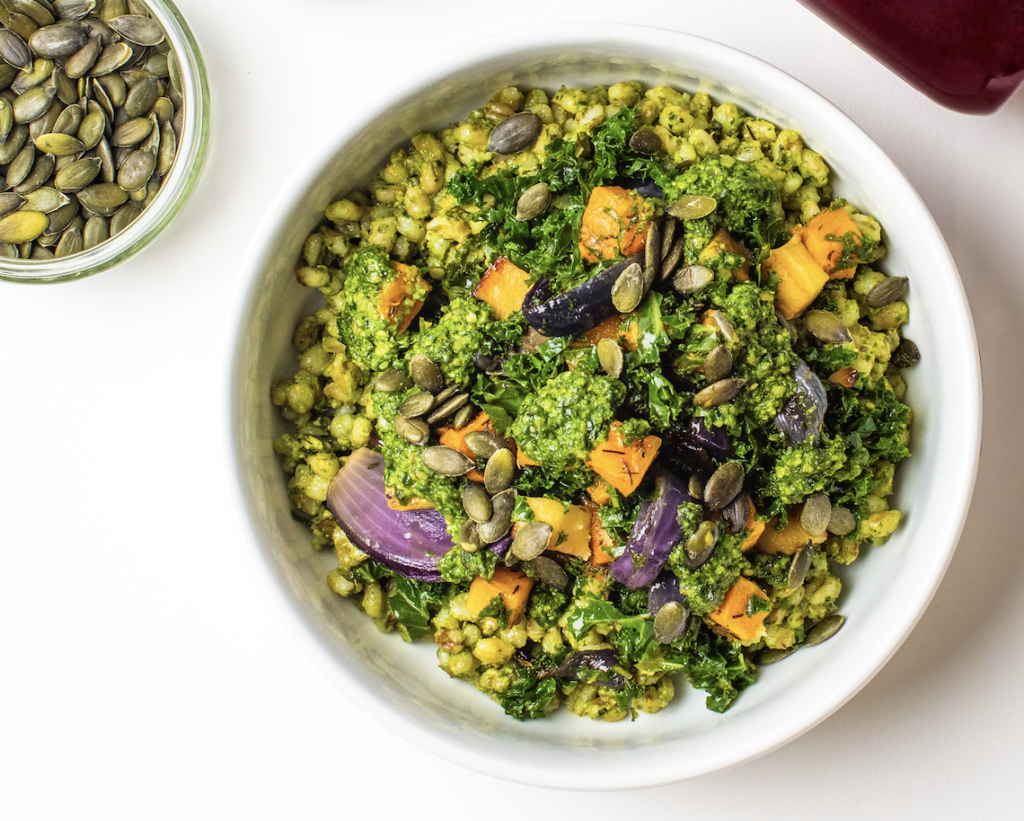 This versatile plant-based bowl is full of both colour and flavour. Enjoy as main meal or portion it up for a great lunch or snack pot, equally tasty served hot or cold.
Ingredients
200g pearl barley
1 butternut squash, peeled and diced
40g toasted pumpkin seeds
1 red onion, sliced
50g kale, washed and sliced
Juice of half a lemon
1 tsp dried thyme
60g baby spinach, washed
Pinch of nutritional yeast
Olive oil, salt and pepper to taste
Directions
Mix the squash and onion with the thyme and olive oil and roast on a baking sheet at 175 for 35-40 minutes until golden and tender.
Boil the pearl barley for 30-35 minutes and drain.
For the pesto blend the spinach, lemon, nutritional yeast, half the pumpkin seeds and olive oil to taste, then mix it with the cooked barley.
Mix all ingredients together and enjoy warm or leave to cool.
---
Fresh Fitness Food provides personalised meal plans delivered straight to your door, ensuring not only that you have the nutrients you need to manage your stress levels, but also that you have the time usually spent shopping, cooking and washing up, to engage in your favourite stress-reducing activity. To discuss which nutrition plan is right for you, book a call with our in-house nutrition team here.
Order today and start smashing your goals with personalised nutrition!
Get £50 off a 5-day trial with code: BLOG50. Start your trial here