4 Quick and Easy Vegan Meal Prep Ideas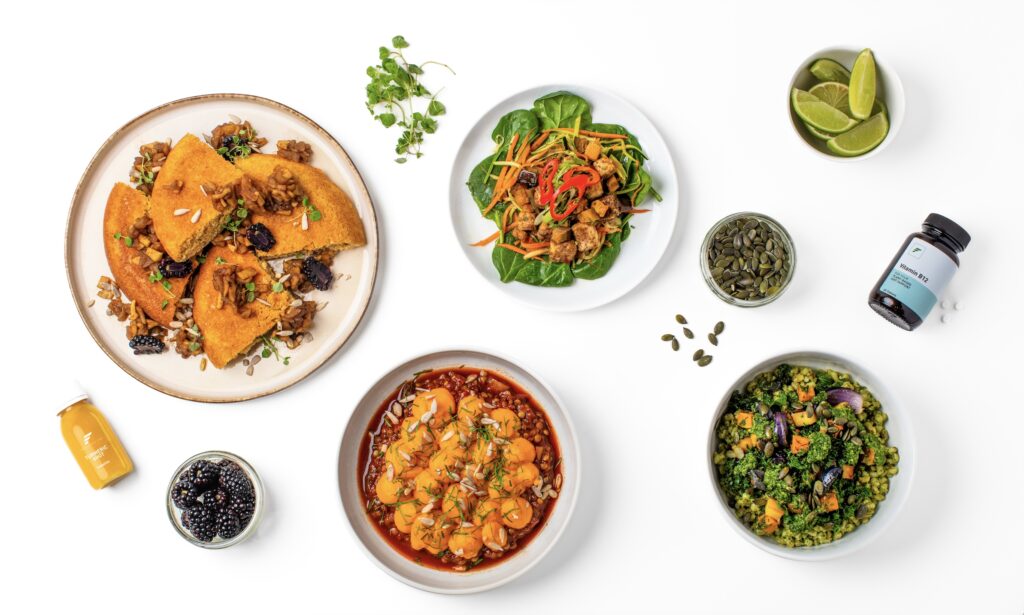 Meal prepping can be challenging if you're doing it for the first time. Planning and preparation are key. For anyone new to the challenge, check out our meal prep lowdown here.
When you're choosing to prepare plant-based meals, there are a few extra considerations to be aware of.
Protein
It's a myth that you can't get enough protein on a vegan diet, though vegans do have to be quite savvy to ensure they get everything they need.
There are 20-22 different amino acids commonly found in plant and animal proteins. Nine of these are considered 'essential', meaning they cannot be synthesised by the human body, and they, therefore, must be obtained from the diet.
Essential amino acids are commonly sourced from animal products, such as meat, fish, eggs and dairy. Since they contain all the amino acids we require, we call them 'complete proteins'.
Plant-based sources of protein contain different amounts and combinations of amino acids but do not often contain the full spectrum of essential amino acids we require. That's not to say we can't obtain all the protein we need, but we must do so through clever combinations of different foods, for example combining peanut butter and wholemeal toast or rice and beans will provide all 9 essential amino acids.
There are also several complete sources of plant-based protein, such as quinoa, tofu and tempeh.
Other nutrients to be aware of include calcium, iron, zinc, selenium and iodine. These are easy to obtain but may require a little extra planning to make sure you are getting the right amount of each nutrient.
Supplements
It's important to be aware that we cannot absorb all nutrients from plant-based foods alone. There are a few nutrients that may require supplementation.
B12
Vitamin B12 is found in animal-based products and cannot be obtained naturally from plant-based sources. Although some food products are now fortified with vitamin B12, such as cereals, plant-based milks and nutritional yeast, for example, we would always recommend supplementing this particular nutrient.
When considering which supplement to take, we would recommend opting for vitamin B12 in the form of methylcobalamin, which is most easily absorbed.
Vitamin D
Vitamin D, otherwise known as 'the sunshine vitamin' is synthesised by the body following sunlight exposure. Although it can be found in small amounts from a small number of animal-based products such as eggs, it cannot be obtained from plant-based food sources.
We would recommend supplementing vitamin D in the form of vitamin D3 which is more readily absorbed by the body.
Omega-3
There are three types of omega-3 fats:
ALA (alpha linoleic acid): This form can be found in plant-based foods like nuts and seeds (especially flaxseed).
DHA (Docosahexanoic acid): This form can mainly be found in algae and seafood.
EPA (Eicosapentaenoic acid): This form can be found in seafood, mainly oily fish like salmon, mackerel and sardines.
Those including oily fish twice per week are likely to obtain plenty of omega-3 through their diet whilst those not consuming oily fish may require supplementation. It's important to make sure any supplement provides both DHA and EPA.
If this all feels overwhelming, to make things easier for you we've provided a few simple ideas to get you started.
---
Roast Veggie Grain Bowl
Ingredients
100g pearl barley
Pinch of salt
50g baby spinach (washed)
1 tsp dried thyme
Handful of kale (washed)
75g butternut squash (chopped into small chunks)
¼ red onion (peeled and sliced into wedges)
75g celeriac (chopped into small chunks)
75g aubergine (chopped into small chunks)
1tbsp olive oil
1 tbsp nutritional yeast flakes
2 tbsp vegetable oil
2 tbsp pumpkin seeds
1 tbsp lemon Juice
½ clove garlic (finely chopped)
Recipe
Boil the barley until completely tender (approximately 30-40 minutes). Drain and leave to the side.
Toast the pumpkin seeds in a pan over a low heat.
For the pesto, blend two thirds of the toasted pumpkin seeds with garlic, olive oil, nutritional yeast, salt, baby spinach and lemon juice, in a blender, (or with a hand blender). Leave the rest of the pumpkin seeds to the side for the topping.
Preheat the oven to 160c.
Mix the vegetable oil, dried thyme and salt with the butternut squash, celeriac, red onion and aubergine in an oven tray and roast until completely tender.
Meanwhile, finely chop the raw kale.
Remove the roasted vegetables from the oven and transfer to a bowl, with the cooked pearl barley.
Mix the pesto through the pearl barley and roasted vegetables until they are fully coated in the dressing.
Top the grain bowl with chopped kale and toasted pumpkin seeds.
---
Overnight Oats
Ingredients
100g rolled oats
125ml oat milk
1 tbsp vanilla protein powder
50 ml water
1 tsp maple syrup
50g coconut yoghurt
Small handful of blueberries (washed)
Small handful of strawberries (washed and sliced)
For the Almond Butter Sauce
1 tsp water
1 tsp maple syrup
1 tbsp almond butter
Pinch of salt (if using unsalted almond butter)
For the topping
1 tbsp nuts of your choice (chopped)
Recipe
Mix all the ingredients for the oats in a bowl, or a glass jar.
Mix all the ingredients for the almond butter sauce in a separate small bowl and leave to the side.
Preheat the oven to 170c. Toast the nuts for 7 minutes in the oven at 170c or until golden. Set these aside until the morning.
Leave the oats in the fridge overnight. Leave the almond butter sauce separately in the fridge.
In the morning, stir the almond butter sauce through the oats, and top with the toasted nuts for extra crunch.
---
Lentil Bolognese with Lemony Brown Rice
Ingredients
1 tbsp vegetable oil
Pinch of dried basil
100g puy lentils
100g tinned tomato
5g fresh basil (washed)
½ onion (peeled and diced)
Pinch of Salt
Pinch of dried oregano
1 tbsp white wine vinegar
100g tenderstem broccoli
100g brown rice
½ tsp lemon zest
20 ml lemon juice
1 tbsp olive oil
½ tsp garlic powder
1 tbsp fresh parsley
Recipe
Heat the vegetable oil in a pan over a medium heat.
Add the onions and cook until translucent.
Add the tinned tomatoes, puy lentils, dried oregano, salt and white wine vinegar and continue to cook over a medium heat until the lentils are tender, stirring occasionally.
Meanwhile, cook the rice as per packet instructions.
When the rice is cooked, drain it, and stir in the lemon zest, lemon juice, olive oil, garlic powder and fresh parsley.
Bring a separate pan of water to the boil.
Place the broccoli in a colander over a steaming pan. Allow to steam over the boiling water for 3-4 minutes and then remove.
Serve the lentil bolognese over the lemony brown rice, with a side of broccoli. Garnish with roughly chopped fresh basil.
---
Tofu and Kimchi Quinoa Bowl
Ingredients
40g kimchi (either homemade or shop bought)
80g quinoa
75g tofu
75g edamame
5g black sesame Seeds
5g tamari sauce
1 tsp corn flour
½ tsp onion Powder
8g spring onion
¼ tsp garlic powder
1 tsp gochujang
Recipe
Dice the tofu into small chunks, approximately 1.5cm x 1.5cm.
Mix together the cornflour, garlic powder, onion powder, tamari sauce and gochujang.
Coat the tofu in the cornflour mix.
Preheat the oven to 190c. Roast the tofu in a baking tray for approximately 30-40 minutes, until golden brown.
Add 175 ml water and 100g quinoa to a pan of cold water and bring to the boil. Reduce to a simmer for approximately 15 minutes, until the water is absorbed. Drain any excess water and leave to the side.
Bring a separate pan of water to the boil. Place the edamame in a colander or a steaming pan. Allow to steam over the boiling water for 3-4 minutes and then remove.
Roughly chop the kimchi.
Mix the tofu, quinoa, kimchi and edamame in a bowl with black sesame seeds.
If cooking is simply not your forte, don't panic, that's exactly why we're here! At Fresh Fitness Food, our bespoke, time-saving vegan meal plans are designed by top nutritionists and tailored to the unique health and fitness goals of people just like you, and delivered daily to your door!
To discuss which nutrition plan is right for you, book a call with our in-house nutrition team here.
Order today and start smashing your goals with personalised nutrition!
Get £50 off a 5-day trial with code: BLOG50. Start your trial here
Latest posts by Sophie Dillon
(see all)