Supporting Menopause and Beyond Through Nutrition
Navigating the complex and transformative journey of menopause is a milestone that every woman eventually faces. While this natural transition brings with it a variety of physical and emotional changes, one powerful tool that often goes overlooked is the role of diet and nutrition.
Just as our bodies evolve over time, so do our nutritional needs. By embracing a thoughtful and purposeful approach to what we eat, we can empower ourselves to manage and even thrive during this significant life phase. Below we've laid out some of the science-backed ways in which your diet can play a pivotal role in supporting menopause, offering insights and practical tips to help you make informed choices that promote overall well-being and vitality, paired with a model day of eating (recipes included!) for inspiration.
First up, the most important meal of the day! 
Breakfast: Roasted Plums with Vanilla Protein Yogurt and Granola
Ingredients (serves 2)
3 plums, halved and pitted
½ teaspoon cinnamon
½ cup ricotta cheese
½ cup Greek yoghurt
½ vanilla pod
1 scoop of vanilla whey
Method
Preheat oven to 200°C.
Place the plums cut-side up, in a single layer on the baking dish.
Sprinkle cinnamon over the plums.
Bake in the oven for approx. 15-20 minutes.
Blend the ricotta cheese till smooth and then mix in the Greek yoghurt, vanilla pod and whey protein.
Allow the plums to cool and then serve with vanilla yoghurt.
Ingredients:
50g Buckwheat Groats
100g Oats
20g Maple Syrup
5ml Olive Oil
1/2 tsp Ground Ginger
Method:
Preheat the oven to 170°C.
Place all ingredients into a bowl and thoroughly mix together.
Line a baking tray with some grease-proof paper, pour the granola mix onto the tray and pop in the oven for 10 minutes.
Once 10 minutes is up, remove the tray and mix around the granola to break up any large clumps.
Place back into the oven for a further 10 minutes.
Leave to cool.
Place into a bowl with toppings of your choice! Some of our favourites are blueberries, natural yoghurt, cacao nibs and almond butter.
Benefits:
During menopause, the production of the reproductive hormones oestrogen and progesterone starts to decrease. Oestrogen is key in aiding calcium absorption in the body, and so the reduction in oestrogen can result in a reduction in calcium, which has been associated with an increased risk of bone loss and fracture risk in menopausal and postmenopausal women when dietary intake of calcium is less than 700-800 mg/day.
As such, yoghurt is a popular food choice around menopause – not only is it an excellent source of calcium, but also provides protein and probiotics too (so long as you stick to natural or Greek yoghurt!).
The granola also provides a source of slow-release carbs and fibre, making a well-balanced breakfast with lots of flavour, and one of your fruit and veg portions as well from the plums!
Tip: Batch-make the granola and store it in an airtight container so that you have it on hand whenever you need it!
Ingredients:
600g broccoli 
1 tbsp olive oil 
½ tsp dried thyme
½ tsp garlic powder
1 red chilli (finely sliced)
40g rocket 
20g radicchio 
½ red onion (finely sliced)
50g wild rice (raw)
50g puy lentils (raw)
1 tsp lemon juice
10g sundried tomatoes
40g feta cheese 
1 tbsp pumpkin seeds
For the Vinaigrette:
1 tbsp lemon juice
1 tsp Dijon mustard
40g olive oil 
Dash of turmeric 
Salt and pepper to taste. 
Method:
Preheat the oven to 190°C.
Wash and chop the broccoli into florets. (Including the stem – this is equally as delicious!)
Wash and finely slice the chilli.
Add the broccoli to a baking tray and coat with olive oil, garlic powder and dried thyme and chilli. Roast at 190°C until golden and just tender, approximately 15-20 minutes.
Cook the wild rice and the puy lentils separately. Place the puy lentils into one pan and the wild rice in another. Cover both with water and bring to a boil. Turn down the heat and simmer. Cook the puy lentils for 25-30 minutes, and the wild rice for 40-45 minutes, or until tender. Drain both the lentils and the rice and set them to one side.
Wash the radicchio and rocket and chop the radicchio into small pieces.
Peel the red onion and slice finely. 
Place the pumpkin seeds onto a separate oven-proof tray and roast in the oven for about 10 minutes, checking these every five minutes until toasted.
Blend together the lemon juice, mustard, olive oil, turmeric, salt and pepper. 
Mix together the broccoli, wild rice, puy lentils and salad. Crumble the feta cheese into the mixture and dress with the vinaigrette. Keep mixing until the dressing is fully mixed through the salad.
Benefits:
As with the breakfast meal, this lunch also contains a great source of calcium in the feta, but the focus here is on broccoli and lentils. Lentils and broccoli, alongside other cruciferous veg, soy, and soy-based products, are something known as a phytoestrogen – a plant oestrogen that is very similar to human oestrogen.
If eaten regularly, and in sufficient quantities, phytoestrogen can have an oestrogen-like effect on the body, which, although mild, can be useful as oestrogen levels decline as menopause progresses. For some women, hearty helpings of phytoestrogens – best spread in smaller portions through the day, rather than one large portion – can reduce menopausal symptoms; particularly hot flushes.
However, there are a couple of things to note. Firstly, it can take 2-3 months to notice the benefits of phytoestrogens, so it's better to start including them in your diet (if you're not already!) as soon as possible. Additionally, they tend to be more beneficial to some women more than others – a difference suggested to be due to differing gut bacteria.
Ingredients:
200g salmon
1 tbsp capers (drained and chopped)
200g white potato
1 tsp dill (finely chopped)
1 tsp parsley (finely chopped)
1 small shallot (finely diced)
1 tsp lemon zest
½ tsp smoked Paprika
¼ tsp nutmeg (grated)
1 tbsp lemon juice
50g bread crumbs (can substitute with gluten-free alternative)
10g buckwheat flour
Lemon Wedge
1 Cornichon
40g frisse
40g radicchio 
Handful of rocket
50g cucumber
50g carrot
½ tsp Dried parsley
1 small garlic clove (crushed and finely chopped)
1 large egg yolk
1 tsp Dijon mustard
285 ml extra virgin olive oil
Lemon juice to taste 
Method:
Preheat the oven to 120°C.
Dice the potatoes into large cubes. Place the potatoes into a pan and cover with cold water. Bring the water to the boil and cook until the potatoes become tender. 
Once the potatoes are soft, drain the water and crush the potatoes with a fork or using a potato masher. 
Place the salmon onto a baking tray, lined with baking paper. Bake the salmon for 12-15 minutes until cooked through, and the salmon flakes easily with a fork. 
Mix together the shallots, nutmeg, capers, parsley, dill, smoked paprika, lemon juice and lemon zest with the mashed potato, buckwheat flour and bread crumbs. 
Mix the salmon with the potato mixture. You should only need to turn the mixture 4-5 times to ensure the salmon stays in chunks throughout.
Form the mixture into patties, approximately 100g each. These are your fishcakes!
Add a little olive oil to a pan and fry the fishcake patties for 3-4 minutes on each side until golden brown. 
Wash, peel and ribbon the carrot and cucumber, and mix with the dried parsley.
Wash and roughly chop radicchio, rocket and frisee. Discard any very yellow or hard parts of the frisee.
Roughly chop any remaining dill and/or parsley. Wash the lemon and cut a wedge, and finely slice the cornichons. These will be used as a garnish for your fishcakes.
For the Aioli, whisk together the mustard and the yolks in a bowl. Start to slowly add the extra virgin olive oil to the yolks, continuing to whisk as you do so.
Once you have added about a quarter of the olive oil, you can start to add the remaining oil a little faster. Once the mixture has thickened, add the lemon juice.
When all the olive oil has been added, add the garlic, and season with salt and pepper.
Serve the fishcakes over the salad and finish with the Aioli dressing and garnish with cornichons and a lemon wedge.
Tip: The fishcakes can be frozen for up to a month, so if you want a heart-healthy meal option ready to go in the freezer, make a few extra and pop them in the freezer while still fresh!
Benefits:
Due to the increased risk of heart disease sometimes associated with menopause, it is important to include 'heart-healthy' foods, to help reduce the risk, by lowering cholesterol levels and blood pressure. This recipe focuses on salmon – a source of unsaturated fats, which can help reduce cholesterol. Aim for two portions of oily fish (salmon, trout, herring, etc).
Not only do unsaturated fats help reduce cholesterol, but omega-3, a type of unsaturated fat found in salmon, is believed to help reduce hot flushes, as well as aid in balancing your mood with your changing hormones!
---
As you embark on this transformative journey, remember that your body is a remarkable vessel, capable of adapting and flourishing with the right nourishment. By embracing a diet rich in whole foods, phytonutrients, and mindful choices, you're not only addressing the unique challenges of menopause but also setting the foundation for a healthier and more vibrant future. Here's to embracing menopause as a natural progression and using the power of nutrition to embrace it fully!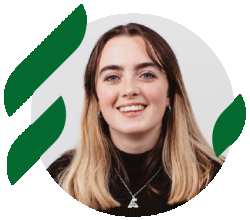 Latest posts by Meghan Foulsham
(see all)